Veraciti, Inc. named Star2Star Dealer of the Year
February 16, 2011
Sarasota, Florida, February 16, 2011 – Star2Star Communications today announced that Veraciti, Inc. of Whippany, New Jersey is one of three winners of the company's annual Dealer of the Year competition. All three dealers will receive an all-expense paid fishing trip for two at a resort in the Dominican Republic.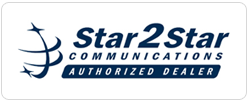 "The competition was very close this year, and all three winners ended the year in a virtual tie. We decided to award prizes to all three because they all deserved it", said Colin Johnston, EVP of Sales at Star2Star.
Star2Star president Joe Rhem continued: "We just finished up our third consecutive year of triple-digit growth. Our dealer network has been one of the keys to our success, and we wanted to reward their contribution."
Star2Star's innovative Business Internet Telephone System provides users with advanced features, flexible call routing, high-quality connections, and unprecedented reliability – all for about one-half the monthly cost of traditional telephone service. The company has enjoyed phenomenal growth despite the slow economy as customers sought ways to save money while improving their communications.
Star2Star telephone systems are installed at thousands of businesses nationwide, ranging from single-location small businesses to nationwide retail and restaurant chains with thousands of locations.
About Star2Star:
Star2Star Communications offers the revolutionary StarSolution, the world's only Blended Architecture voice communications system. Joining a proprietary premise-based PBX with custom cloud-based voice services, Star2Star's unique End-to-End solution is built together to work together. Star2Star monitors the solution 24/7. This exclusive combination of architecture, monitoring and deliverability results in best of class features, business grade call quality, guaranteed reliability, dramatic savings and has made Star2Star Communications the only voice services vendor capable of providing a complete solution to every business address in North America served by broadband Internet.
About Veraciti:
Founded in 2000 by current owner and President Frank Altieri, Veraciti provides IT consulting, managed services, on-site service, and business continuity services. Veraciti Inc. is dedicated to providing cost-effective computer support to businesses that want to improve efficiency and increase their bottom line. The company has a staff of 20 technicians, and is located in Whippany, New Jersey. They can be reached at (973) 887-8660 or (888) 312-1600, or on the web at www.veraciti.com.
Contact Information:
Les Freed
Star2Star Communications, LLC
600 Tallevast Road, Suite 202
Sarasota, Florida 34243
941-234-0001 X109
www.star2star.com
Frank Altieri
Veraciti, Inc.
49 South Jefferson Road
Whippany, New Jersey 07981
973-887-8660
www.veraciti.com